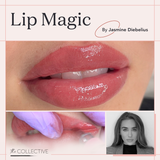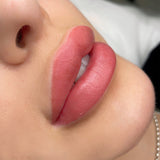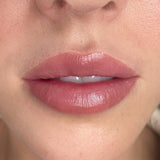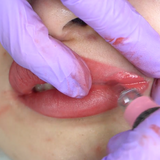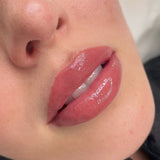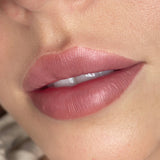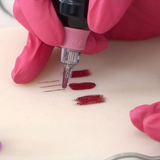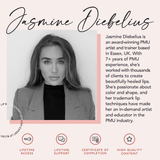 Welcome to our online course, Lip Magic, where we explore the art of lip blushing with award-winning artist Jasmine Diebelius. Refine your skills and learn new techniques for outlining and shading lips in half the time you'd normally take using both single and magnum needles. Jasmine uses this magical technique in her own work for maximum working speed, and her trademark lip techniques have made her one of the most sought-after artists in the PMU industry. In this course, you will learn her secrets to creating beautifully healed lips with natural and delicate definition.
Join Jasmine on this exciting journey as she guides you through 2 full procedure videos, 34 demonstrational videos, and countless how-to visuals that'll help perfect your craft. Watch her conduct live procedures using a 1RL for fool-proof pigment implantation as well as a 7CM needle for maximum coverage efficiency. Practice alongside her latex demonstrations, step-by-step pre-drawing videos, and lip shape instructions to finesse your skills. Learn exactly what pigments, machines, needles, and tools Jasmine uses for every client's individual need. We've also included 8 case studies packed with healed results and downloadable forms, sheets, and pro tips to help you successfully achieve your client's goals, every single time.
Course Highlights:
How to perform pigment drawdowns
How to deposit ink into the right skin layer
How the skin heals after a PMU procedure
Why pigment fades over time and how to avoid it
How to use the Fitzpatrick scale to understand skin types
How the creation of melanin affects pigment
Organic pigments vs Inorganic pigments vs Hybrid pigments
Single vs Magnum needles
Why you should use long taper needles
How to shade and outline lips
How to offer aftercare and control swelling
What to Expect Upon Completion of This Course:
Increased confidence when dealing with your client's needs
How to choose the right color for your client's skin type
Deciding on a plan of action and perfecting your procedure notes
Using Jasmine's techniques and the right needle to lessen the trauma
Ensuring beautifully healed results after just one procedure
Recommended for artists who have at least 6 months of machine experience.
Jasmine is one of the most exciting artists in the industry right now, quickly gaining the respect of global industry experts for her beautifully delicate lip artwork and the vast knowledge she so generously shares. Creating beautiful lips is just a step away - by taking this detail-rich course you'll master lip blushing and cut your working time in half with her magical technique tips. This course is ideal for artists who are experienced with using a 1RL and want to take the next step in mastering the art of lip blushing.
Talk to product expert
Customer Reviews
Write a Review
Ask a Question
02/19/2022
Oana D.

Canada
Very informative
Great knowledge
02/19/2022
Jacqueline R.

Netherlands
Online lipcursus
De online lipcursus geeft ons de mogelijkheid om de stille uurtjes onze kennis bij te schaven. Een duidelijke instructie welke je zo vaak kan bekijken als nodig.