Tina Davies Europe
PIXL Needle Cartridge Sampler Pack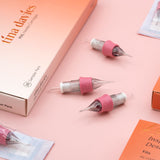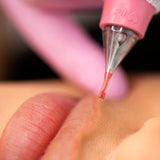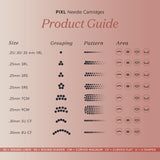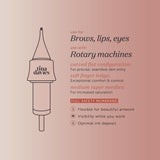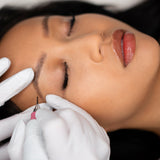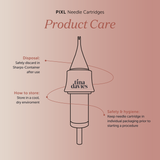 Tina Davies Europe
PIXL Needle Cartridge Sampler Pack
Find your ideal configuration with the Sampler Pack, including 10 cartridges with unique needle tips in various sizes and configurations. Now includes the 5U & 8U CF configurations.
In the kit:
10 needle cartridges per box
0.25 mm 1RL LT
0.30 mm 1RL LT
0.35 mm 1RL LT
0.25 mm 3RL LT
0.25 mm 3RS LT
0.25 mm 5RS LT
0.25 mm 7CM LT
0.25 mm 9CM LT
0.30 mm 5U CF MT
0.30 mm 8U CF MT
Use small needles (1RL, 3RL, 3RS, 5RS) for precise details
Use large needles (7CM, 9CM) for coverage and efficiency
Use curved flat needles (5U CF, 8U CF) for hair strokes and linework
1RL, 3RL, 3RS, 5RS have no-drip tips for reduced pigment pooling
7CM, 9CM, 5U CF, 8U CF have tapered tips to increase stability and precision
All needles fit rotary machines and are effective on face and body
Unique tip and finger rest for improved precision, control, and comfort
Full membrane to prevent backflow and EO gas sterilized
Materials:
Unique tip to reduce pigment pooling and increase stability and precision
304 surgical grade stainless steel
0.25 mm, 0.30 mm, and 0.35 mm needles
Medium taper (3.5 mm) and long taper (6 mm) needles
EO gas sterilized
Disposable
Full safety membrane
Compatibility:
Universal cartridge design is compatible with all rotary machines, not compatible with PMU digital machines/devices.
Compatible with the following rotary machines: AXYS Valhalla, AXYS Valkyr, Bellar, Bellar V2, Bellar Air, Bishop wands, Brow Daddy Cleo, Cheyenne Artyst, Cheyenne H2, Cheyenne Hawk, Cheyenne Sol, Dragonhawk Mast, Dragonhawk P20, Flux, Flux S, Flux Mini, Perma Pen, Rook Quill, Xion, Xion S, Xion Mini, and more.
Not compatible with the following PMU machines/devices: Amiea, Artmex, Biomaser, Biotek, Bomtech, Charme, Giant Sun, Golden Eye, Infinity, Meicha, Nouveau Contour, PhiBrows, Purebeau, Slay Bae, and more.
Documents:
Sample the uniqueness that each PIXL Needle Cartridge has to offer! Artists can expect an effortless experience with these new, innovative needle tips to reduce pigment pooling, improve visibility, and increase precision. The improved finger ledge offers enhanced control and comfort to reduce hand fatigue. Made with a patented safety membrane to prevent backflow and optimize machine performance. Unleash your creativity and discover which configurations work best for you.
Top Tips:
Needle selection is based on personal preference, skin condition and design demands.
Consider which configuration will cause the least amount of trauma to your client's skin.
To use: insert, twist and lock into place.
For optimal pigment flow, adjust the needle hang on your machine to allow the needle to protrude by 2-3 mm.
If the needle is extended too far, it may not pick up enough color from the tip as the needle retracts.
If the needle is not extended far enough, you will find it difficult to see the tip and may experience pigment pooling.
Allow the needle to "draw up" ink into the tip of the cartridge by running the machine and holding the tip in place in your pigment cup.
Do not to let the needle hit the bottom of the cup, as this may damage the needle tip. Use a pigment sponge to help.
Work off the tip(s) of the needle without forcing it into the skin. If the needle is resistant to the skin, you may need to change to a smaller or tighter configuration to minimize trauma.
Maintain a flat surface by gently stretching the skin in small areas at all times to maximize ink deposit and minimize skin trauma.
Wipe the tip of the needle frequently to remove buildup of ink.
During tattooing, clean the needle cartridge in sterile water to remove buildup and when changing colors.
Dispose into a sharps container after use — never reuse a needle once you complete a procedure.
Talk to product expert